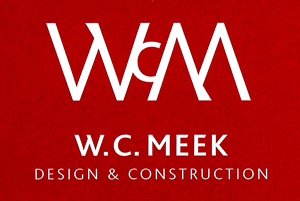 Bill Meek is a down-to-earth construction professional, straight forward & articulate. No hidden agendas, quality drives him.
His company, W.C. Meek Design & Construction (WCM) reflects the same as his personal attributes for the foundation of his Design-Build business. The roots of Meek's Design-Build business were grown as a university house painter. He recognized the importance of finishing jobs to perfection, attention to detail and colour scheme. He also built up his knowledge of Interior Design and Architecture through post-secondary education and hard work.
He says, there is an INCREDIBLE advantage to working with WCM in a Design-Build arrangement because we can parallel our work on design with budgeting. Working in this way decreases the possibilities of over designing, as well in the initial phases of our project process, we learn your budget parameters, then we design to your budget.
Alternatively, we can consult and collaborate with your Architect and or Designer to execute the design and develop details for them. This arrangement works best when we are brought into the project process early (at concept stage), in order to develop the build (construction) budgets early, so that you are not spending good money on design, and not able to afford the build (construction).
On larger scale specialized projects where Architects, Engineers, and specialized Designers are required, WCM can take the Construction Manager role in order to facilitate from concept, design, scope of work, permit, then on to build and finally maintain.
W.C. Meek performs all residential projects and is currently expanding into commercial projects as well. His business territory covers the GTA, with the bulk of work being performed in downtown Toronto core.
Meek says his clients are exceptionally discerning and demand quality results. This is definitely not a problem for W.C. Meek Design and Construction. "Clients want you to come in, work on their project, and treat their home with care and respect. I understand that. It's that kind of attention to detail that I learned years ago…that I take pride in."
Pride equates to Meeks' "Build in Theory, Before you Build in Reality" principle. He explains that clients need to know costs in the beginning of the project — not just the ballpark or cost per square footage methods. Old homes for example, often have unknowns that must be considered before construction begins. Meek evaluates these unknowns before initiating a project so clients do not have surprises. "Projects must be built on paper first—so they are not built on unexpected dollars later,"